In today's competitive business landscape, a well-crafted pitch deck is the key to capturing the attention of investors and stakeholders. A crucial element of any pitch deck is the Team Slide, which provides an overview of your team members, their expertise, and their roles within the organization. In this article, we will guide you on how to create an outstanding Team Slide that not only impresses your audience but also boosts your chances of securing funding for your startup.
Understanding the Importance of the Team Slide
The Team Slide is a vital part of your pitch deck because investors invest in people as much as they invest in ideas. They want to know that your team has the right skills, experience, and passion to execute the business plan successfully. This slide serves as an opportunity to showcase your team's qualifications, achievements, and dedication, instilling confidence in potential investors.
Crafting a Compelling Team Slide
1. Introduce Each Team Member
Begin your Team Slide by introducing each member of your team with their name, title, and a brief description of their background. Highlight their key achievements and experiences that are relevant to your startup. Remember to use targeted keywords related to your industry to enhance SEO optimization.
2. Showcase Their Expertise
For each team member, provide detailed information about their areas of expertise and how it aligns with your company's vision. Use specific examples to demonstrate their capabilities and accomplishments, adding credibility to your team's abilities.
3. Emphasize Their Roles
Clearly outline the roles and responsibilities of each team member within the organization. Describe how their contributions will drive the company's growth and success. This section helps potential investors understand the synergy within your team and how everyone plays a vital role in achieving the company's goals.
4. Highlight Achievements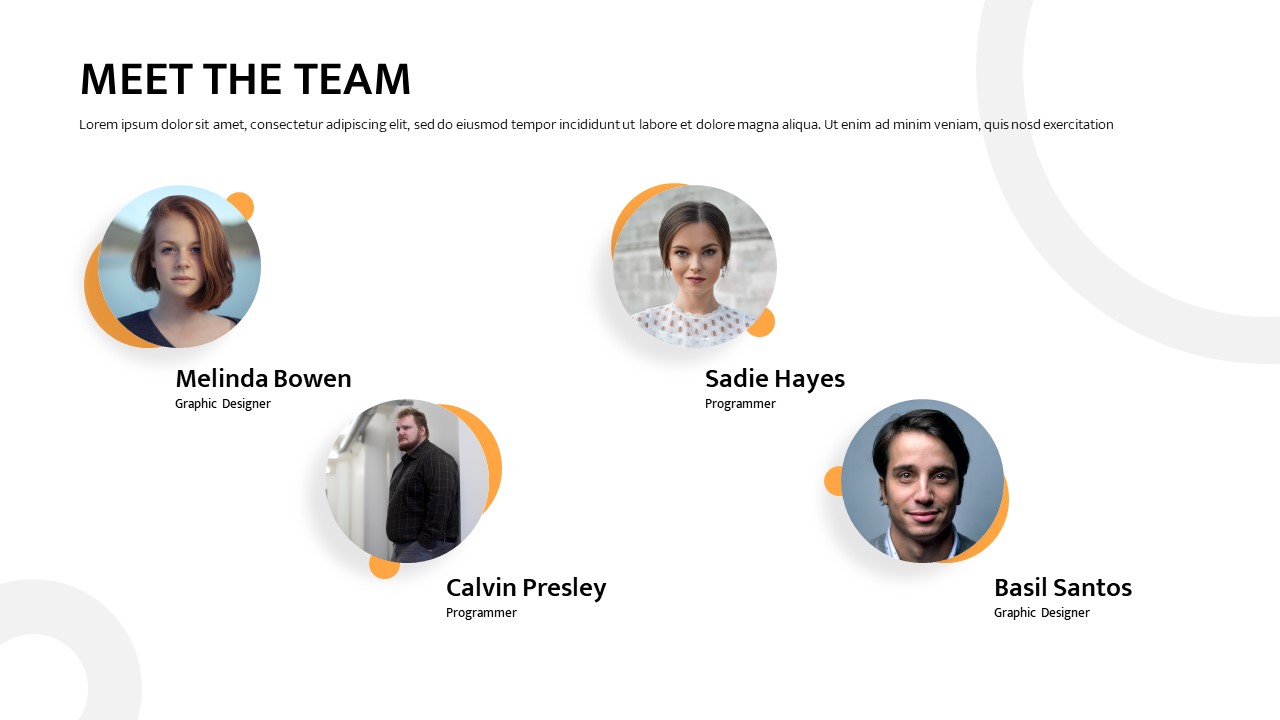 Share any notable achievements and milestones your team members have attained in their careers. This can include awards, recognitions, successful projects, or publications. Demonstrating past successes adds credibility and builds trust with your audience.
5. Include Professional Images
Visuals are essential in creating an impactful Team Slide. Include professional headshots of your team members, preferably in a consistent style, to give your pitch deck a polished and cohesive look.
6. Show Passion and Commitment
Aside from qualifications, investors want to see passion and commitment in your team. Share stories or anecdotes that reflect your team's dedication to the project and its mission. This humanizes your team and helps establish an emotional connection with your audience.
Conclusion
An outstanding Team Slide is crucial to the success of your pitch deck and can significantly impact your startup's funding prospects. By introducing each team member effectively, showcasing their expertise, emphasizing their roles, and highlighting achievements, you can create a compelling narrative that resonates with potential investors. Remember, the key is to present a cohesive and passionate team that instills confidence and excitement in your audience. Use this guide to craft a remarkable Team Slide that sets your startup apart and propels you towards success.
Remember, consistently updating and optimizing your content is vital for maintaining a high ranking on Google. Stay abreast of industry trends, continually enhance your pitch deck, and nurture your team's growth to ensure your success in the competitive business landscape. Good luck!